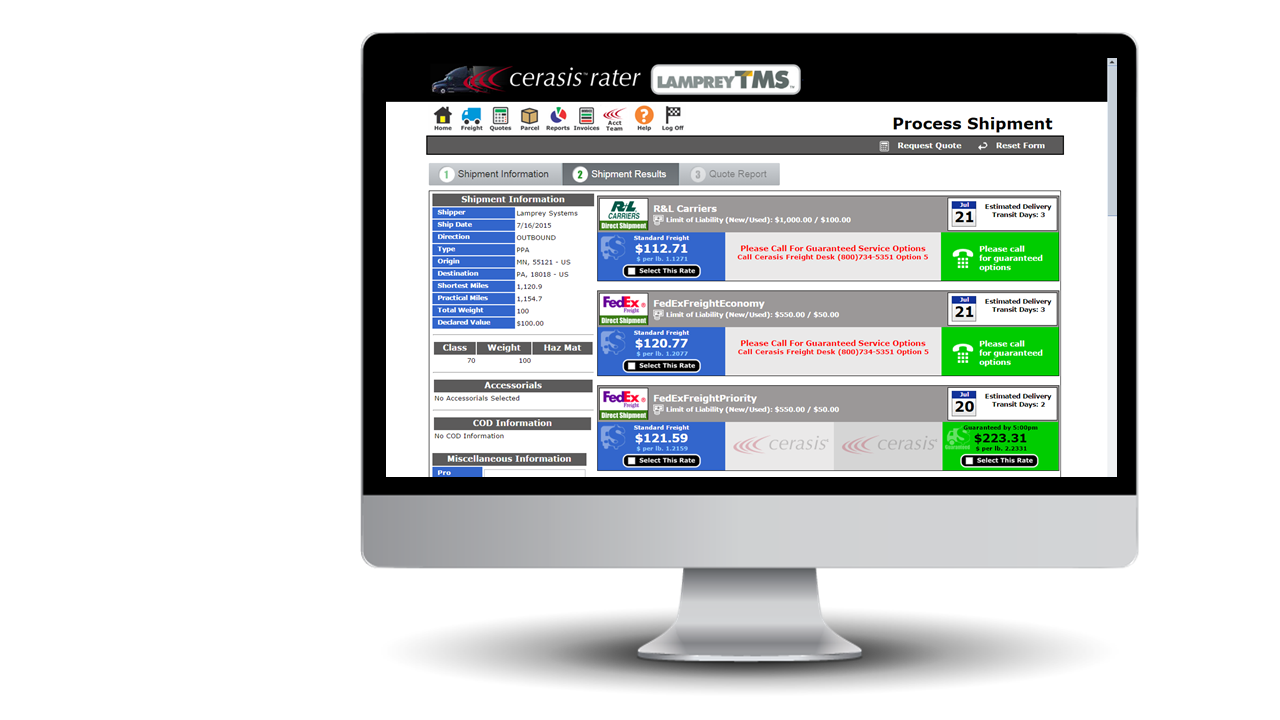 A Transportation Management System is a vital tool for shipping professionals. It helps to coordinate all of the available data points in a transport network, including rates, route options, warehouse supply, and distribution. Transportation management systems present this information in a clean, easy to understand format that then allows the shipping manager to make the best and most efficient decisions possible. In 2015, the state of transportation management systems is good, with the industry slated to see tremendous growth in the coming few years.
Traditionally Transportation Management Systems have been very expensive and complex, making them costly to implement and maintain over time. That made it impossible for most small and mid level shippers to employ them effectively. However, the cost savings and increases in efficiency have prompted most large companies to adopt these systems, giving them yet another edge over their niche competitors.
Today the state of transportation management systems is changing, as developments in technology are constantly making these products less expensive, easier to use, more functional, and less time-consuming to install. That is allowing smaller shippers to take advantage of the great benefits that these systems can provide, in cost, data acquisition, efficiency, and communication flow.
The Potential of Transportation Management Systems
Many people are claiming that the potential for Transportation Management Systems is enormous and that within ten years all serious shippers will be using them on a regular and sophisticated basis. That is because there are unquestionable advantages to making use of these systems to control and sort complex shipping networks. At the same time, as pricing drops it will make those companies that do not adopt these practices obsolete.
Another factor influencing the growth of TMS use is that vendors are starting to target untapped smaller companies. These businesses have not previously had the resources to implement these systems effectively. However now that pricing has dropped and there are now web-based transportation management systems which are easy to deploy the providers of this software are starting to increase their field of view to take in new prospective customers. That is fueling the market even more, causing these systems to permeate every corner of the industry.
At the same time the efficiency and function of these systems is making transportation management systems more desirable than ever to a wide variety of customers. Cloud-based products are cutting down on the time it takes to install and implement a Transportation management System in an effective way. This allows even smaller companies to leverage the power of high-end servers in order to achieve precise and insightful data analysis.
Reasons to Implement a Transportation Management System
One of the most important reasons to implement a Transportation Management System is  to access the best rates from transport carriers possible. These systems take cost information from a variety of providers, on a number of different routes, and organize it all into a simple to read list that lets the shipping manager make a quick and effective decision on how to move their freight from one place to another.
By providing shippers with the ability to rate and choose the carrier they want based on price, limit of liability and transit time, transportation management systems turn the entire process into a buyer's market. At that point, all that the shipping manager has to do is sit back and choose the best option for that specific shipment that gets the cargo to the destination they need in the time frame required. That can lead to big savings, which can in turn impact the bottom line.
Another important reason that more companies are adopting Transportation Management Systems in 2015 is that they can dramatically increase the efficiency of a business. Rather than having a single person keeping track of multiple products, shipments, and solutions, these systems organize everything into precise, easy to read lists that can then be used effectively to make the best decision possible. That eliminates human error while making the person in charge of shipping more effective at their job.
The ability to make shipping less expensive, and more efficient, is driving many businesses to invest in Transportation Management Systems in 2015. A 3PL can now provide a TMS at no charge to shippers as often a 3PL focused on transportation management will offer integrated services and make money off of margins. This ultimately means that the savings benefits for shippers are even more powerful at any size of the enterprise. At the same time, the ability to eliminate redundancies, human error, and increase the efficiency of the organization can result in realizing greater profits.
Beyond a Transactional Tool, A TMS is Now a Strategic Continuous Improvement Tool
However, Transportation Management Systems also have the ability to do much more than simply provide rate information. They are able to collect data points from multiple transport providers on various routes around the country. That wealth of information is incredibly valuable, but only when it is parsed down into a form that can be used effectively.
The challenge for Transportation Management System developers going forward will be to find effective ways to help shipping managers understand and interpret the wealth of data that these products can make available to them. They need to be able to understand what it means, and have it accessible to them when a decision point is reached. That will allow the shipper to make far more effective decisions about shipping across the entire organization.
Transportation Management Systems can also be beneficial to carriers who are willing to adapt to these products. While they do make the market more competitive, forcing prices down, they also allow more access to customers. That can increase the overall number of opportunities that become available, increasing the bottom line for them as well. At the same time, they can use these systems to make their own organizations more efficient and cost effective.
The state of Transportation Management Systems in 2015 is solid, but there is still tremendous potential for this industry. It's estimated that only 35% of shippers are currently using these solutions. However advances in technology, and decreasing prices are making these products accessible to a much larger audience, and today even small and mid-level shippers are able to take advantage of the utility of these systems. At the same time, vendors are also starting to target these untapped markets as they become more accessible. This is leading to greater use across all logistical operations.
For a no obligation demo of LampreyTMS call 212-288-8908 or contact us today
---
About the Author
Adam Robinson oversees the overall marketing strategy for Cerasis including website development, social media and content marketing, trade show marketing, email campaigns, and webinar marketing. Mr. Robinson works with the business development department to create messaging that attracts the right decision makers, gaining inbound leads and increasing brand awareness all while shortening sales cycles, the time it takes to gain sales appointments and set proper sales and execution expectations.