Small parcel carrier rate increases have traditionally taken place annually, but recently carriers are implementing rate increases more frequently throughout the year. These frequent increases leave shippers scrambling to understand the impact of the changes. In addition to the frequency of rate increases, the methods used to apply the rates have grown in complexity, including dimensional weight rating for all services and the growing list of surcharges that add to fuel costs. As a result, accurate forecasting is becoming much more difficult.
On September 20, 2021, FedEx Corp. announced price increases that will go into effect before the holiday peak shipping season. We've put together this breakdown of the rate increases to help you understand precisely how this announcement can impact your business and what you can do to mitigate negative consequences on your forecasting.
FedEx 2022 Shipping Rate Increases: What's Changing?
FedEx 2022 shipping rates for U.S Domestic Express, Ground, Home Delivery, and Import and Export rates are expected to increase an average of 5.9% for package services. The 5.9% average increase is a jump from the average increase of 4.9% over each of the last eight years.
The FedEx fuel surcharge is expected to increase beginning on November 1, 2021. This increase is a blow to shippers already experiencing fuel surcharge increases over the last year. The average ground fuel surcharge is up 3.5% from July 2020 to September 2021.
Some notable FedEx 2022 shipping rate charges that will take effect on January 3, 2022:
FedEx has announced that they will follow UPS in determining Additional Handling and Oversize surcharge rates by zone. Rates for some zones will increase as much as 38%.

FedEx will apply a No Shipment Tendered surcharge when a pickup is rendered, but no shipment is tendered to the driver.

FedEx will assess a Delivery and Returns Surcharge for packages delivered or returned using Ground Economy services.
How Do FedEx 2022 Shipping Rate Increases Affect My Company?
The 5.9% average increase only applies to the transportation portion of the shipment cost, so some shippers may experience a more significant increase. Other charges, including certain accessorial and fuel charges, are set to increase even more than 5.9%. As you can see in Table 1, many surcharges will increase beyond 5.9%, with some as high as 38.1%.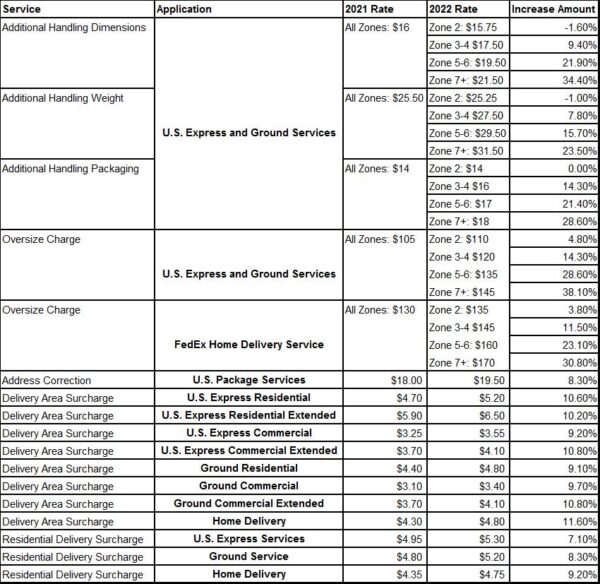 Table 1. Increases to some of the most common surcharges from 2021 to 2022.
Many of the package minimum rates will increase in January, as shown in Table 2 below. The ground minimum is set to rise 6.85%, which could strongly impact your shipping costs if a large percentage of your shipments are at the minimum charge.
Table 2. Increases to minimum package rates from 2021 to 2022.
A good starting point to understanding the FedEx 2022 shipping rate increase is to talk to a technology-driven company that can estimate the actual increase to your business using an impact analysis that takes your actual shipments and calculates the projected cost using the rate increases. They can also give you access to your shipping data in a much more informative and robust way than the carriers, allowing you to identify the areas of greatest impact.
What Can I Do About FedEx 2022 Shipping Rate Increases?
You should consider working with a provider that can help you negotiate a new carrier pricing agreement to mitigate the rate increase, especially if it's been a while since your last negotiation.
Another way to reduce your shipping costs is to closely monitor your spending in real-time. Work with a provider that can take your weekly shipping data and distill it into meaningful information in the form of a shipping analytics dashboard. You can monitor avoidable charges and make simple changes that will save your company money.
Pay attention to the effective dates for FedEx 2022 shipping rates::
November 1, 2021 for the fuel surcharge increase.

January 3, 2022 for the general rate increases.
The rate charges are coming quickly. If you ship with FedEx (or UPS as they are expected to announce rate increases before the end of the year), then now is a great time to talk to an expert to help you understand and mitigate the rate increases for your business. Contact us today or call us at 800-675-6598.